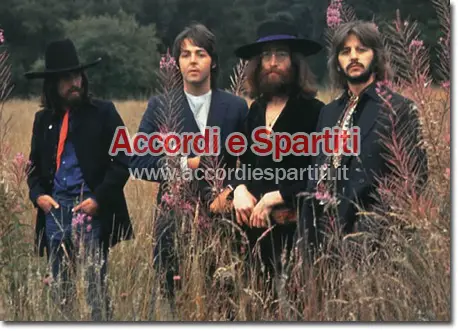 Celeberrima canzone ispirata ad un sogno che ebbe Paul McCartney, in cui sua madre Mary gli diceva di lasciar perdere (appunto, let it be) le tensioni che lo stesso Paul aveva con gli altri membri del gruppo, ormai prossimo allo scioglimento. Era il 1970, e Let it be usciva come sesta traccia dell'omonimo nonchè ultimo album dei Beatles, usciti entrambi a seguito dell'uscita diPaul McCartney dal gruppo e quindi del conseguente scioglimento.
Lo stesso McCartney ne ha reincisa una nuova versione nel 1987 col supergruppo Ferry Aid, per fini caritatevoli.
Let It Be è considerata dai fan dei Beatles una delle più belle canzoni mai scritte dal gruppo, se non la più bella come risultato da molti sondaggi sul tema.

The Beatles Let It Be Testo Lyrics Accordi per Chitarra Guitar Chords
Intro: G  D  Em  C  G  D  C / / G

G                     D                Em          C
When I find myself in times of trouble mother Mary comes to me
G                 D              C  / / G
Speaking words of wisdom, let it be,
G                 D               Em                C
And in my hour of darkness she is standing right in front of me
G                 D              C  / / G
Speaking words of wisdom, let it be,

Em         D          C          G
Let it be, Let it be, Let it be, Let it be
D             C     / / G
Wisper words of wisdom, let it be

G                     D              Em               C
And when the broken hearted people living in the world agree
G             D                 C
There will be an answer, let it be  / / G
G                     D              Em               C
For though they may be parted there is still a chance that they will see
G             D                 C
There will be an answer, let it be  / / G
Em        D           C         G
Let it be, Let it be, Let it be, Let it be
D            C / / G
There will be an answer, let it be
Em        D           C        G
Let it be, Let it be, Let it be, Let it be
D            C / / G
Wisper words of wisdom, let it be

G  D Em  C  G  D C / / G
Solo:(verse)
Em         D          C          G
Let it be, Let it be, Let it be, Let it be
D             C / / G
Wisper words of wisdom, let it be
G                      D                       Em          C
And when the night is cloudy, there is still a light that shines on me
G            D       C   /  /    G
Shine until tomorrow, let it be
G                  D              Em          C
I wake up to the sound of music mother Mary comes to me
G                  D            C / / G
Speaking words of wisdom, let it be
Em         D         C          G
Let it be, Let it be, Let it be, Let it be
D             C / / G
There will be an answer, let it be
(one stroke)     Em          D          C          G
Let it be, Let it be, Let it be, Let it be
/     /    /    D            C / / G
Wisper words of wisdom, let it be
l'autore del post
10 commenti degli utenti
marghe


ciao

6 aprile 2011 alle 17:50

carlo


questo sito mi piace . Grazie

6 giugno 2011 alle 15:18

ciaoo


stupendo il vostro sito

5 novembre 2011 alle 21:58

dimagio


bellissimo sito bravo

26 gennaio 2012 alle 00:32

ellybrugio


davvero bello…poi io suono il piano e queste cose mi piacciono molto.solo una domanda,ma perchè le canzoni per il pianoforte vanno scaricate e quelle per la chitarra no??

5 marzo 2012 alle 14:52

Elena Matthew


Se amo questa canzone che ho suonato x il mio saggio e i Beatles!??! Cert che si <3 ^_^

7 aprile 2012 alle 15:58

Anonimous


Very beautyful SONG !!! T_T !:D

13 febbraio 2013 alle 15:04

Luca


Davvero bella canzone, immortale nel tempo.. !! Una sola domanda: le "//" indicano la modulazione da do a sol o indicano che entrambi gli accordi sono accettabili??

27 marzo 2013 alle 18:58

Alberto (Redazione)


@ Luca: indicano il passaggio da Do a Sol, le cui note nell'ordine (della melodia) sono Re-Do-Si, e i relativi accordi sono Sol-Lam-Sol

28 marzo 2013 alle 17:13

Daniele


Grazie adoro questa canzone e, e mi piace suonarla mi siete stati molto d'aiuto.
Saluti!

Dany

11 maggio 2013 alle 14:46
lascia un commento