Cabaret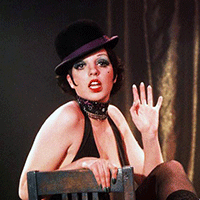 Cabaret
Cabaret: Accordi
Chitarrista, dita incriccate?

Scopri il metodo per sbloccare le tue dita

Intro:
FA7

SIb           SIbdim   SIb          SIbdim                         
 What good is sitting alone in your room? 
SIb                  SIb7      
Come, hear the music play
MIb      MIdim REm      SOL7  DOm7        FA7 SIb FA9    
Life is a Caba-ret, old chum, Come to the Cabaret 
SIb          SIbdim        SIb          SIbdim                                 
Put down the knitting, the book and the broom, 
SIb            SIb7
Time for a holiday 
MIb       MIdim REm      SOL7
Life is a Caba--ret, old chum, 
DOm7        FA7 SIb
Come to the Cabaret
               MIb                 SIb
Come taste the wine, come hear the band, 
               SOLm         
Come blow your horn, start celebrating 
FA7
Right this way, your table's waiting 
SIb       SIbdim       SIb        SIbdim                     
No use permitting some prophet of doom 
   SIb               SIb7
To wipe every smile away 
MIb       MIdim REm     SOL7
Life is a Caba--ret old chum, 
DO7         FA7 SIb    FA7
Come to the Cabaret 

  SIb            FA7/5+              SIb   FA7/5+
I used to have a girlfriend known as Elsie 
          SIb           FA7/5+          SIb    SIb7
with whom I shared four sordid rooms in Chelsea 
    MIb               RE7             SOLm
She wasn't what you'd call a blushing flower 
     DO9                              FA7
as a matter of fact she rented by the hour 
    SIb              FA7/5+             SIb   FA7/5+   
The day she died the neighbours came to snicker 
     SIb             FA7/5+             SIb   SIb7
Well that comes from too much pills and liqueur 
    MIb6                     RE7    SOLm7  DO7
But when I saw her lay there like a queen 
            DOm7               FA7/6 SIb
She was the happiest corps I'd ever  seen 
                         LA7      REm7
I think of Elsie to this very day 
    FA/DO          DO7              FA7/6  SIb
I remember how she turned to me and say... 

             SIbdim       SIb          SIbdim                     
What good is sitting all alone in your room? 
SIb                  SIb9
 Come hear the music play 
MIb       MIdim REm7     SOL9
 Life is a caba-ret, old chum, 
DOm7        FA7 SIb
Come to the cabaret 
           MIbm
And as for me.. 
           SIb          SOLm7           DO9
And as for me I made my mind up back in Chelsea 
FA7
 when I go... 
    SOL7         SOL7/5+
I'm going like Elsie... 



DO         DOdim        DO        DOdim
Start by admitting from cradle to tomb 
   DO                DO7
It isn't that long a stay 
FA        FA#dim MIm
Life is a caba---ret, 
    LA7       FA    FA#dim MIm      LA7
old chum It's only a caba--ret, old chum 
    REm7  SOL9   DO  FA  DO  FA  DO  FA  DO
And I love a cabaret...

REb9  DO9




Chitarrista, dita incriccate?

Scopri il metodo per sbloccare le tue dita
Credits
Autori: EBB FRED, KANDER JOHN
Copyright: © ARTEMIS MUZIEKUITGEVERIJ B V, BMG RIGHTS MANAGEMENT, WARNER CHAPPELL MUSIC
Generato su Accordi e Spartiti - www.accordiespartiti.it
Tutto il contenuto si intende esclusivamente a uso didattico, di studio e di ricerca. Esso non è tratto da alcuna pubblicazione, ma è frutto esclusivamente di libere interpretazioni personali.
L'utilizzazione di tali materiali è consentita unicamente a fini didattici e ne è vietata qualsiasi utilizzazione a scopi commerciali quali, a titolo esemplificativo, la pubblicazione a mezzo stampa oppure online oppure mediante pubblica rappresentazione.

 
Cabaret: Video
Cabaret è un noto brano musicale tratto dal celeberrimo musical omonimo, nato dalla penna del compositore John Kander su parole di Fred Ebb e libretto di Joe Masteroff. Scritto nel 1965, è uno dei tanti capolavori targati "Broadway" e prende spunto dal romanzo Goodbye to Berlin di Christopher Isherwood; ambientato a Berlino nel 1931, racconta la storia d'amore tra la cabarettista inglese Sally Bowles e l'americano Cliff Bradshaw con l'ascesa del nazismo a fare da sfondo. La canzone è interpretata dalla stessa Sally, ultimo suo pezzo solista prima del finale.
Articoli correlati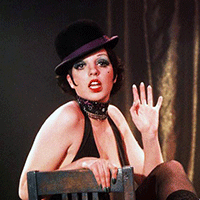 Cabaret: Vedi tutte le canzoni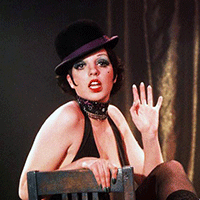 The Money Song
The Money Song è un brano tratto dal noto musical Cabaret, scritto da John Kander per le musiche e da Fred Ebb con Joe ...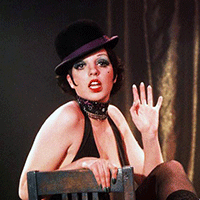 Mein Herr
Mein Herr è un brano che fa parte della colonna sonora del celebre musical Cabaret, scritto nel 1965 da John Kander sui...
L'autore del post
Lascia un commento