#Selfie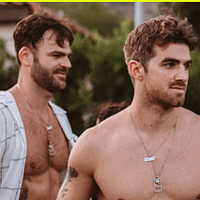 The Chainsmokers
#Selfie: Chords
Principiante o Intermedio?
Scopri i nostri
Corsi di Chitarra per tutti i livelli




FAm
When Jason was at the table

I kept on seeing him look at me 

while he was with that other girl

Do you think he was just doing that to make me jealous?

Because he was totally texting me all night last night

And I don't know if it's a booty call or not

So... like what do you think?

Did you think that girl was pretty?

How did that girl even get in here?

Do you see her?

She's so short and that dress is so tacky

Who wears Cheetah?

It's not even summer, 

why does the DJ keep on playing "Summertime Sadness"?

After we go to the bathroom, can we go smoke a cigarette?

I really need one

But first,
                      FAm
Let me take a selfie


Can you guys help me pick a filter?

I don't know if I should go with XX Pro or Valencia

I wanna look tan

What should my caption be?

I want it to be clever

How about "Livin' with my bitches, hash tag LIVE"

I only got 10 likes in the last 5 minutes

Do you think I should take it down?
                           FAm
Let me take another selfie

FAm
Wait, pause, Jason just liked my selfie

What a creep

Is that guy sleeping over there?

Yeah, the one next to the girl with no shoes on

That's so ratchet

That girl is such a fake model

She definitely bought all her Instagram followers

Who goes out on Mondays?

OK, let's go take some shots

Oh no, ugh I feel like I'm gonna throw up

Oh wait, nevermind I'm fine

Let's go dance

There's no vodka at this table

Do you know anyone else here?

Oh my God, Jason just texted me

Should I go home with him?

I guess I took a good selfie
         FAm
Selfie...

Let me take a selfie 




Principiante o Intermedio?
Scopri i nostri
Corsi di Chitarra per tutti i livelli
Credits
Autore: TAGGART ANDREW
Copyright: Lyrics © NICE HAIR PUBLISHING, SONYATV ALLEGRO, SONYATV MUSIC PUBLISHING LLC, SM PUBLISHING (ITALY) S.R.L.
Generato su Accordi e Spartiti - www.accordiespartiti.it
Tutto il contenuto si intende esclusivamente a uso didattico, di studio e di ricerca. Esso non è tratto da alcuna pubblicazione, ma è frutto esclusivamente di libere interpretazioni personali. L'utilizzazione di tali materiali è consentita unicamente a fini didattici e ne è vietata qualsiasi utilizzazione a scopi commerciali quali, a titolo esemplificativo, la pubblicazione a mezzo stampa oppure online oppure mediante pubblica rappresentazione.

 
#Selfie: Video
#Selfie è un brano scritto dai DJ The Chainsmokers pubblicato come singolo nel 2014. Canzone già prodotta nel 2013, viene scelta da una nota casa discografica statunitense e, sull'onda della moda del momento, il brano riscuote grandissimo successo scalando le classifiche di musica elettronica. Si tratta di un pezzo da discoteca, con totale uso dell'elettronica, testo ridotto a frasi parlate e base musicale mononota.
L'autore del post
Lascia un commento