I Miss the Misery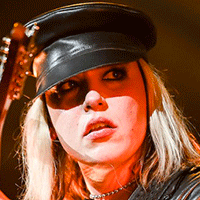 Halestorm
I Miss the Misery: Chords
Corsi di Chitarra Gratis: Questo è il migliore

LAm                    SOL
Oh, I miss the misery...

LAm    DOadd9    SOL    RE

LAm    DOadd9    SOL    RE

LAm9         DO7+            SOL6   RE6/9
 I've been a mess since you stayed
LAm9         DO7+             SOL6   RE6/9
 I've been a wreck since you changed
LAm           DO            SOL
 Don't let me get in your way
           RE               FA
I miss the lies and the pain
                          MIm    SOL
The fights that keep us awake...
 
I'm telling you

LAm
 I miss the bad things
DOadd9
 The way you hate me
SOL
 I miss the screaming
    RE
The way that you blame me
LAm7/4
 Miss the phone calls
DOadd9
 When it's your fault
SOL
 I miss the late nights
RE                  LAm
Don't miss you at all
           DO          SOL
I like the kick in the face
        RE                 FA
And the things you do to me
                         MIm
I love the way that it hurts
             SOL
I don't miss you, I miss the misery

LAm7/4    DOadd9    SOL    RE

LAm9            DO7+          SOL6  RE6/9
 I've tried but I just can't take it
LAm9        DO7+             SOL6    RE6/9
 I'd rather fight than just fake it 
                      LAm
'cause I like it rough
              DO           SOL
You know that I've had enough
          RE              FA
I dare ya to call my bluff
                           MIm       SOL
Can't take too much of a good thing...

LAm
 I miss the bad things
DOadd9
 The way you hate me
SOL
 I miss the screaming
    RE
The way that you blame me
LAm7/4
 Miss the phone calls
DOadd9
 When it's your fault
SOL
 I miss the late nights
RE                  LAm
Don't miss you at all
           DO          SOL
I like the kick in the face
        RE                 FA
And the things you do to me
                         MIm
I love the way that it hurts
             SOL
I don't miss you, I miss the misery

FA                              LA
 Just know that I'll make you hurt

(I miss the lies and the pain what you did to me)
FA                                 LA
 When you tell me you'll make it worse

(I'd rather fight all night than watch the TV)
FA                   SOL LAm
 I hate that feeling inside
    SOL/SI  DO       RE       FA
You tell me how hard you'll try
                       MIm   SOL
But when we're at our wo------rst

LAm
 I miss the misery

I miss the bad things

The way you hate me

I miss the screaming

The way that you blame me

LAm7/4    DOadd9    SOL    RE

...I miss the misery
LAm
 I miss the rough sex
DOadd9
 Leaves me a mess
SOL                    RE
 I miss the feeling of pains in my chest
LAm7/4
 Miss the phone calls
DOadd9
 When it's your fault
SOL
 I miss the late nights
RE                   LAm
Don't miss you at all
           SOL          RE/FA#
I like the kick in the face
FA         SOL     LAm7/4       
Don't miss you at all
           SOL         RE/FA#
I love the way that it hurts
             FA
I don't miss you, I miss the misery




Corsi di Chitarra Gratis: Questo è il migliore
Credits
Autori: CONNOLLY CHRISTINE DANIELLE, HALE ELIZABETH MAE, STEVENS SCOTT CHRISTOPHER
Copyright: © BMG PLATINUM SONGS US, BUGHOUSE, WARNER CHAPPELL MUSIC
Generato su Accordi e Spartiti - www.accordiespartiti.it
Tutto il contenuto si intende esclusivamente a uso didattico, di studio e di ricerca. Esso non è tratto da alcuna pubblicazione, ma è frutto esclusivamente di libere interpretazioni personali.
L'utilizzazione di tali materiali è consentita unicamente a fini didattici e ne è vietata qualsiasi utilizzazione a scopi commerciali quali, a titolo esemplificativo, la pubblicazione a mezzo stampa oppure online oppure mediante pubblica rappresentazione.

 
I Miss the Misery: Video
I Miss the Misery è un brano composto e inciso dagli Halestorm, contenuto nell'album The Strange Case Of... pubblicato nel 2012. Secondo lavoro in studio per la rock band della Pennsylvania, segna un netto salto di qualità nella loro carriera musicale aggiudicandosi oltre un milione di copie nei soli USA. La canzone è la principale artefice di tale successo; secondo singolo estratto dal disco, racconta la fine di una storia d'amore... che si lascia alle spalle gioie, dolori e rimpianti.
Articoli correlati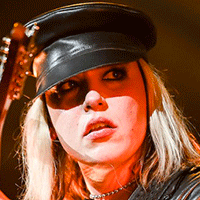 Halestorm: Vedi tutte le canzoni
L'autore del post
Lascia un commento