Bismarck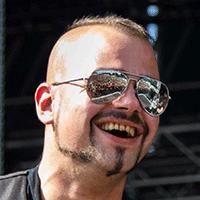 Sabaton
Bismarck: Chords
Chitarrista, dita incriccate?

Scopri il metodo per sbloccare le tue dita




Intro:
FA#m        MI        FA#m        MI

FA#m        MI        FA#m        MI        FA#m

FA#m                       MI/FA#
 From the mist, a shape, a ship, is taking form
        RE/FA#
And the silence of the sea 
            LA           MI
is about to drift into a storm
FA#m            MI/FA#
 Sign of power,  show of force
RE/FA#                   LA                  MI
 Raise the anchor, battleship's plotting its course
DO#7                                 
Pride of a nation, a beast made of steel
                  RE
Bismarck in motion, king of the ocean
       MI
He was made to rule the waves 

           FA#m       
across the seven seas
MI
 To lead the war machine
                               FA#m
To rule the waves and lead the Kriegsmarine
MI
 The terror of the seas
                             FA#m
The Bismarck and the Kriegsmarine

FA#m
 Two thousand men, 
          MI/FA#
and fifty thousand tons of steel
        RE/FA#
Set the course for the Atlantic 
         LA              MI
with the Allies on their heel
FA#m       MI/FA#
 Firepower, firefight
RE/FA#                     LA                MI
 Battle Stations, keep the targets steady in sight
DO#7
Into formation, the hunt has begun
                    RE
Death and damnation, the fleet is coming
       MI
He was made to rule the waves 

           FA#m       
across the seven seas
MI
 To lead the war machine
                               FA#m
To rule the waves and lead the Kriegsmarine
MI
 The terror of the seas
                             FA#m   SIm FA#m
The Bismarck and the Kriegsmarine

RE  FA#m MI    LA/DO#  MI    DO#m  MI FA#m

SIm  FA#m     RE  FA#m MI     LA/DO#  MI

DO#m  MI FA#m

       FA#m           
At the bottom of the ocean, 
    RE/FA#
the depths of the abyss
         MI/FA#            FA#m
They are bound by iron and blood
                              MI/SOL#
The flagship of the navy, the terror of the seas
    LA6                      MI/SI
His guns have gone silent at last

LA      MI      LA      MI

SIm     FA#m      LA     DO#4 DO# DO#4 DO# FA#m

FA#m  SIm  FA#m     MI     DO#m  DO#

FA#m  SIm  FA#m     MI     FA#m MI RE SIm

DO#
Pride of a nation, a beast made of steel
                  RE
Bismarck in motion, king of the ocean
       MI
He was made to rule the waves 

           FA#m       
across the seven seas
MI
 To lead the war machine
                               FA#m
To rule the waves and lead the Kriegsmarine
MI
 The terror of the seas
                             FA#m  
The Bismarck and the Kriegsmarine
MI
 To lead the war machine
                               FA#m
To rule the waves and lead the Kriegsmarine
MI
 The terror of the seas
                             FA#m   
The Bismarck and the Kriegsmarine
MI
 To lead the war machine
                               FA#m
To rule the waves and lead the Kriegsmarine
MI
 The terror of the seas
                             FA#m   
The Bismarck and the Kriegsmarine




Chitarrista, dita incriccate?

Scopri il metodo per sbloccare le tue dita
Credits
Autori: BRODEN JOAKIM, SUNDSTROM PAR
Copyright: © WARNER CHAPPELL MUSIC
Generato su Accordi e Spartiti - www.accordiespartiti.it
Tutto il contenuto si intende esclusivamente a uso didattico, di studio e di ricerca. Esso non è tratto da alcuna pubblicazione, ma è frutto esclusivamente di libere interpretazioni personali. L'utilizzazione di tali materiali è consentita unicamente a fini didattici e ne è vietata qualsiasi utilizzazione a scopi commerciali quali, a titolo esemplificativo, la pubblicazione a mezzo stampa oppure online oppure mediante pubblica rappresentazione.

 
Bismarck: Video
Bismarck è un brano composto e inciso dai Sabaton, pubblicato come singolo nel 2019 e che la band metal svedese realizza alla vigilia del loro ottavo disco di inediti The Great War, interamente dedicato alla sciagura della Prima Guerra Mondiale. Musica e parole portano le firme rispettivamente di Joakim Broden e Paer Sundstroem; un pezzo dedicato alla famosa nave da guerra tedesca della Seconda Guerra Mondiale, chiamata così in onore del cancelliere Otto von Bismarck.
Articoli correlati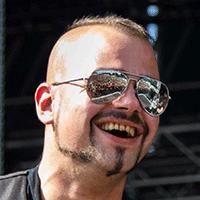 Sabaton: Vedi tutte le canzoni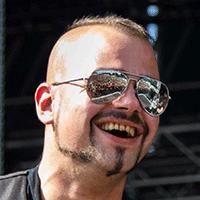 Resist And Bite
Resist And Bite è una canzone del 2014 del gruppo metal svedese Sabaton, inclusa nell'album Heroes. Parla della battagl...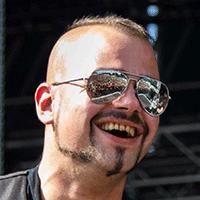 The Lost Battalion
The Lost Battalion è un brano composto e inciso dai Sabaton, contenuto nell'album The Last Stand pubblicato nel 2016. O...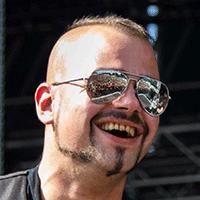 The Attack of the Dead Men
The Attack of the Dead Men è una canzone della band svedese Sabaton, pubblicata nel 2019 nell'album The Great War. Il t...
L'autore del post
Lascia un commento